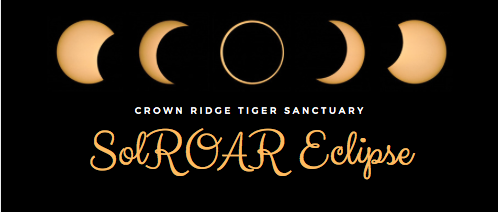 Come see the Solar Eclipse with the big cats at Crown Ridge Tiger Sanctuary! Enjoy a fun-filled tour of our tigers (and a lion), snacks, drinks, and of course view eclipse from our beautiful ridge!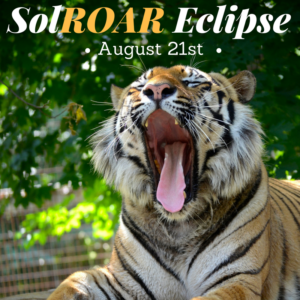 Our sanctuary is the perfect spot to see the eclipse at totality. We are located on the center line, and our sanctuary will see 2 minutes and 30 seconds of totality!
During our event you will get an exclusive tour, enjoy our beautiful big cats, snacks, drinks provided by Crown Valley Winery, Fizzy Izzy Rootbeer, and view the eclipse from a very open viewing area!
Event starts at 11am and will close at 2pm. Reserve your spot now, as our tickets are limited! To reserve order tickets online at https://www.universe.com/events/solroar-eclipse-tickets-6S291L, tickets are $50 per person.