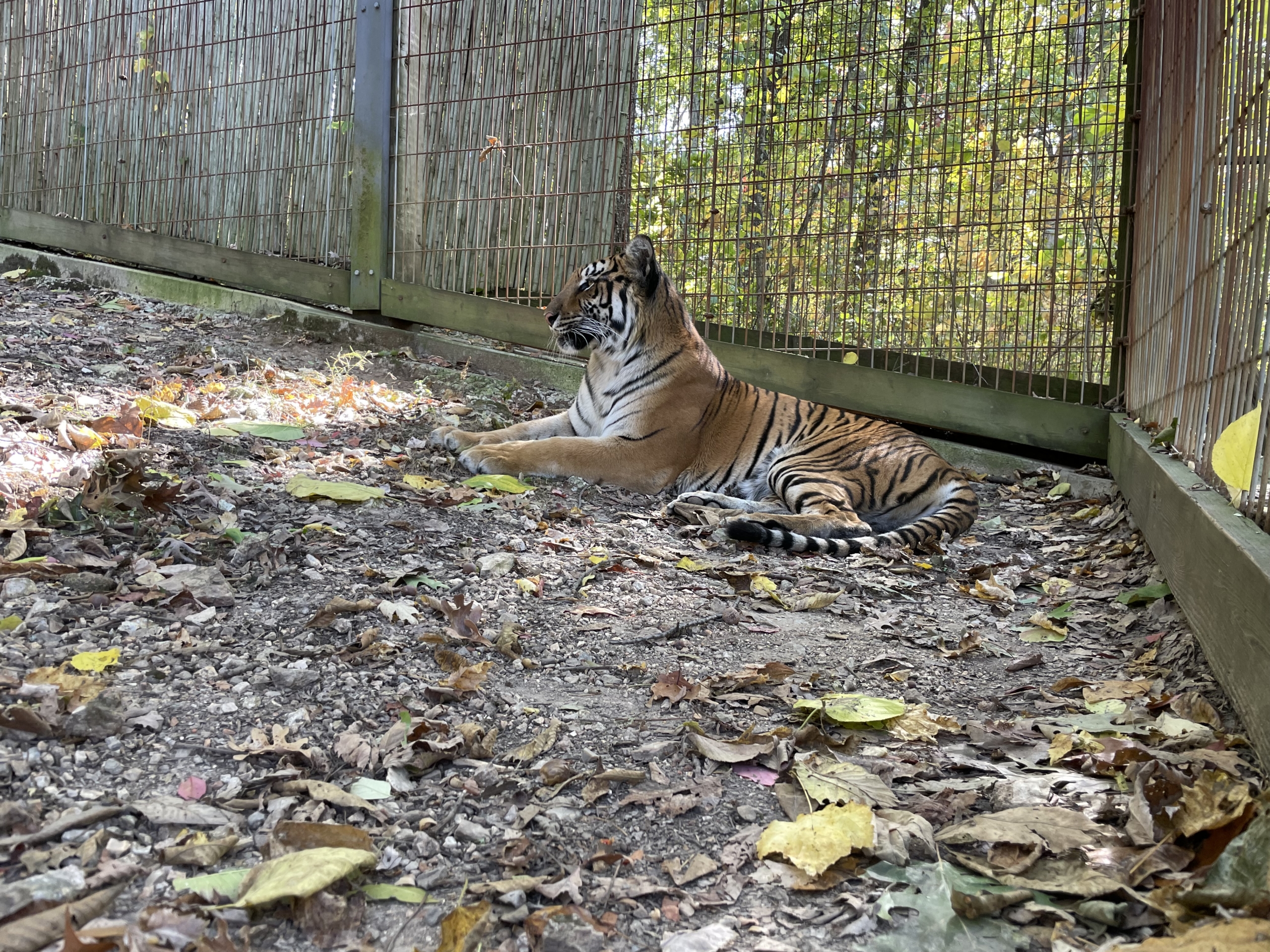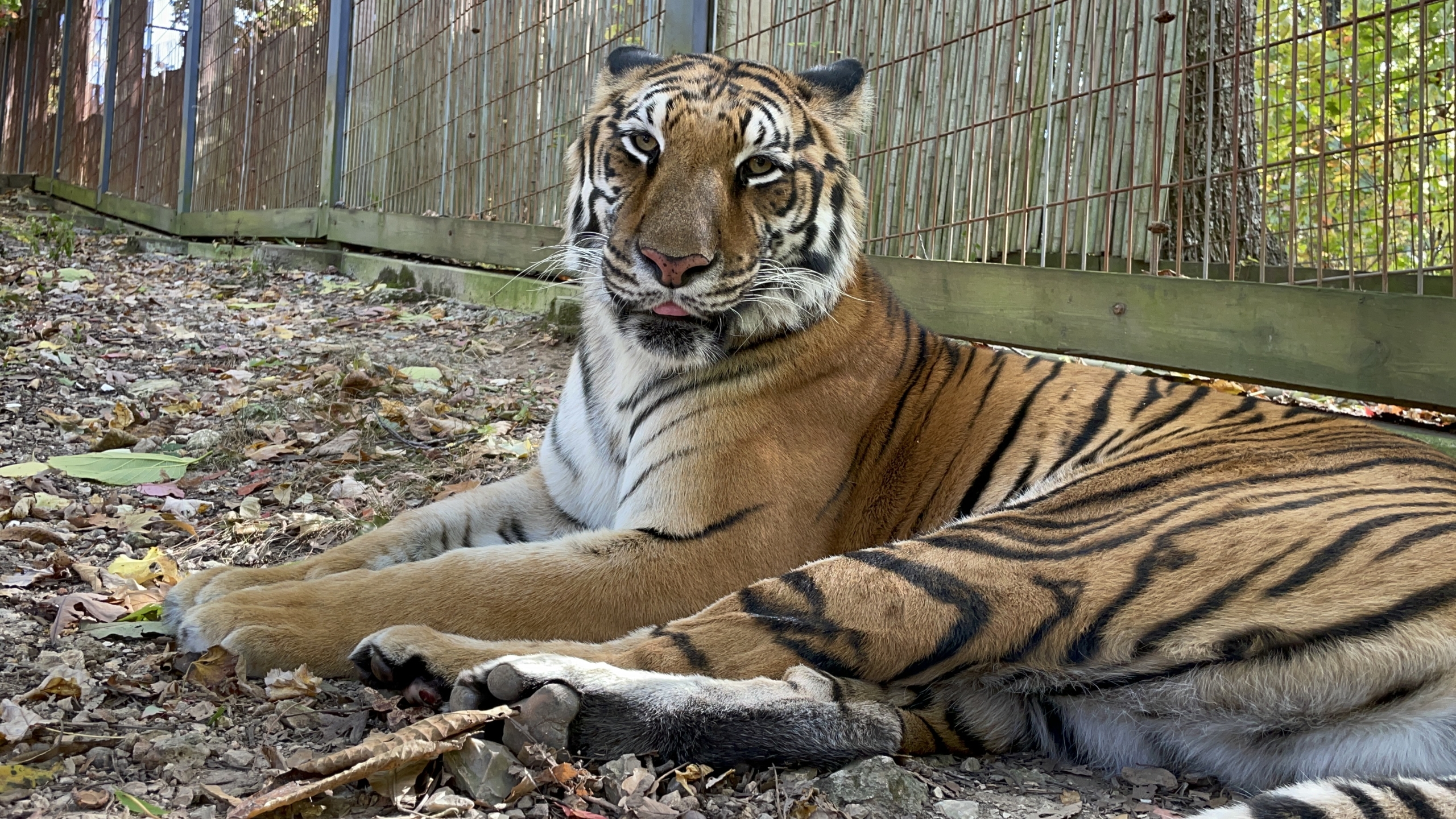 SHAKIRA
Born: April 9, 2010
Rescued: September 2022
Species: Female Siberian Hybrid
Weight: 250 lbs
Favorite Pastime: Smelling Old Lady Perfume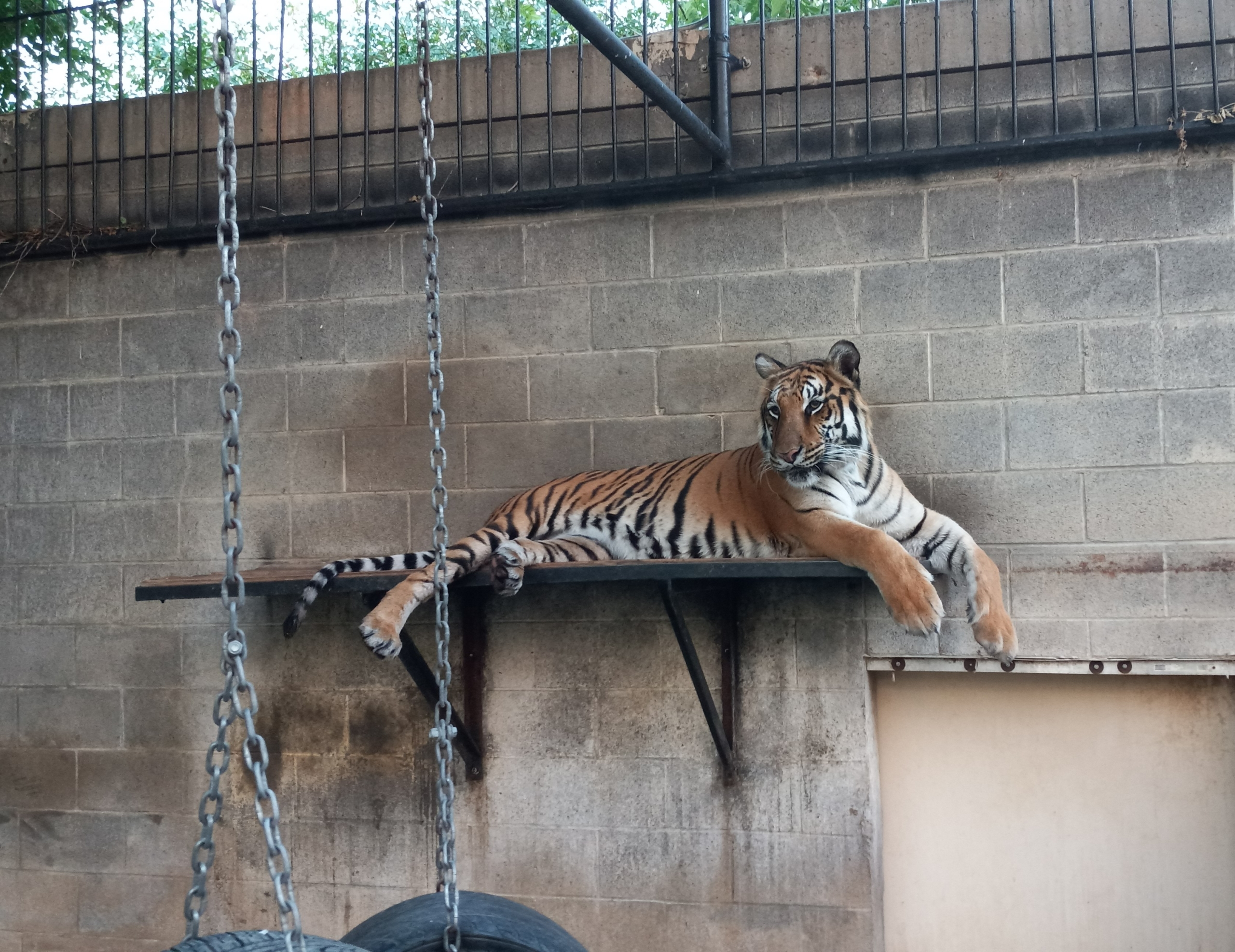 On August 29, 2022 we were contacted by the Big Cat Sanctuary Alliance Rescue committee about a tiger that was in need of a new home. Her name was Shakira, and she was at a small zoo in Dodge City, KS that was going to be closing their zoo in order to do a full renovation, and switch to only native species, so Shakira needed a new permanent home. We quickly set everything up and on September 20 we were on our way to get Shakira! It was a long, 10 hour drive, but later that evening we arrived and got to see Shakira for the first time! She was a pretty chuffy girl and we hoped she would be cooperative the next day when we needed to get her loaded up onto the trailer!
The next day when we went to load Shakira up she did great! It took her a little while to get in, but with some snacks, and time she got in on her own! We then loaded her up on the trailer and started the 10 hour drive back to the sanctuary. During the trip Shakira did great, she pretty much slept the whole trip. Once we got back to the sanctuary we unloaded her and brought her down to our quarantine area. There we connected the transport crate to the door and gave her access to her new home. She was a little hesitant, but after only a minute or so she stepped into her new forever home!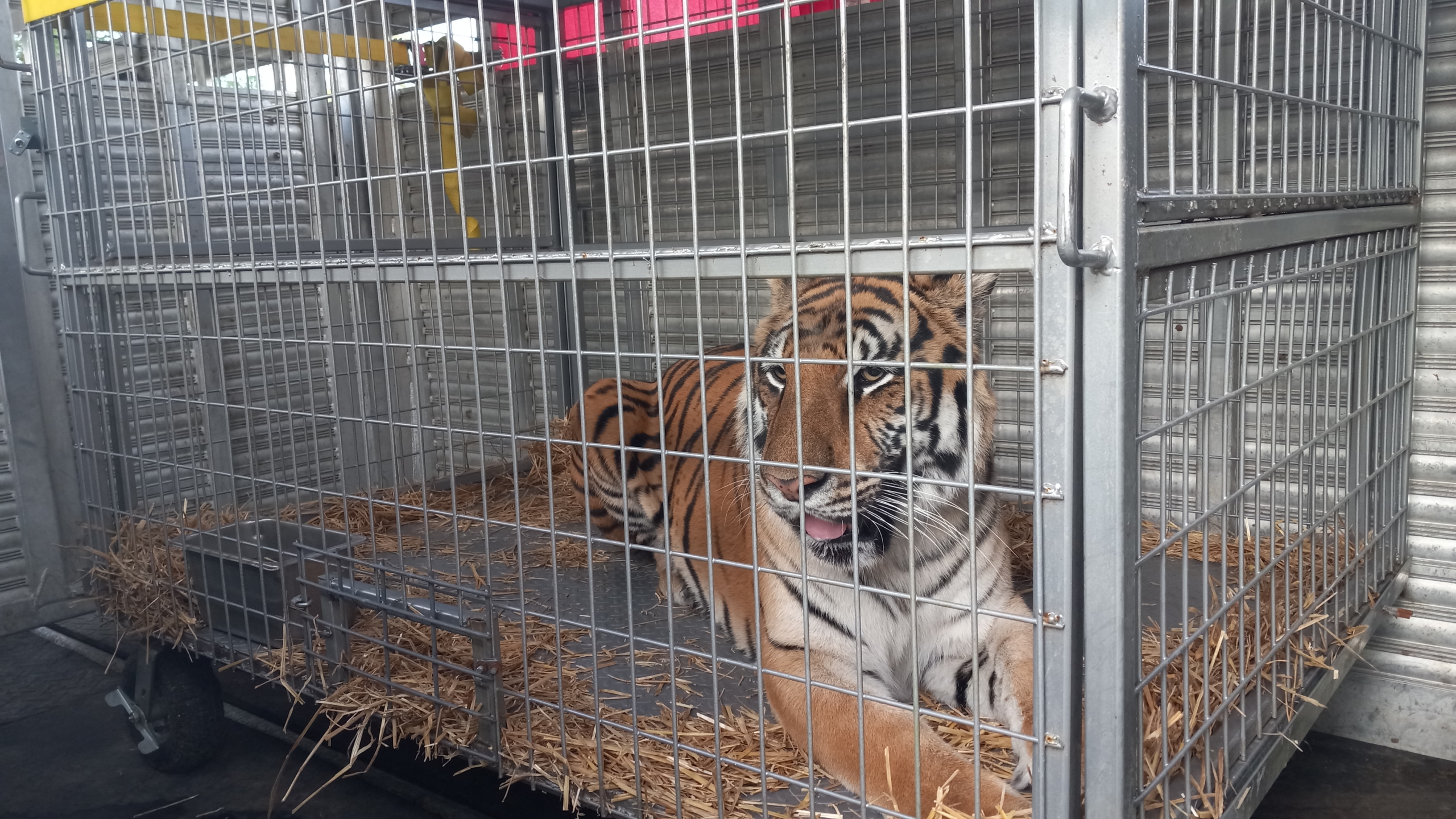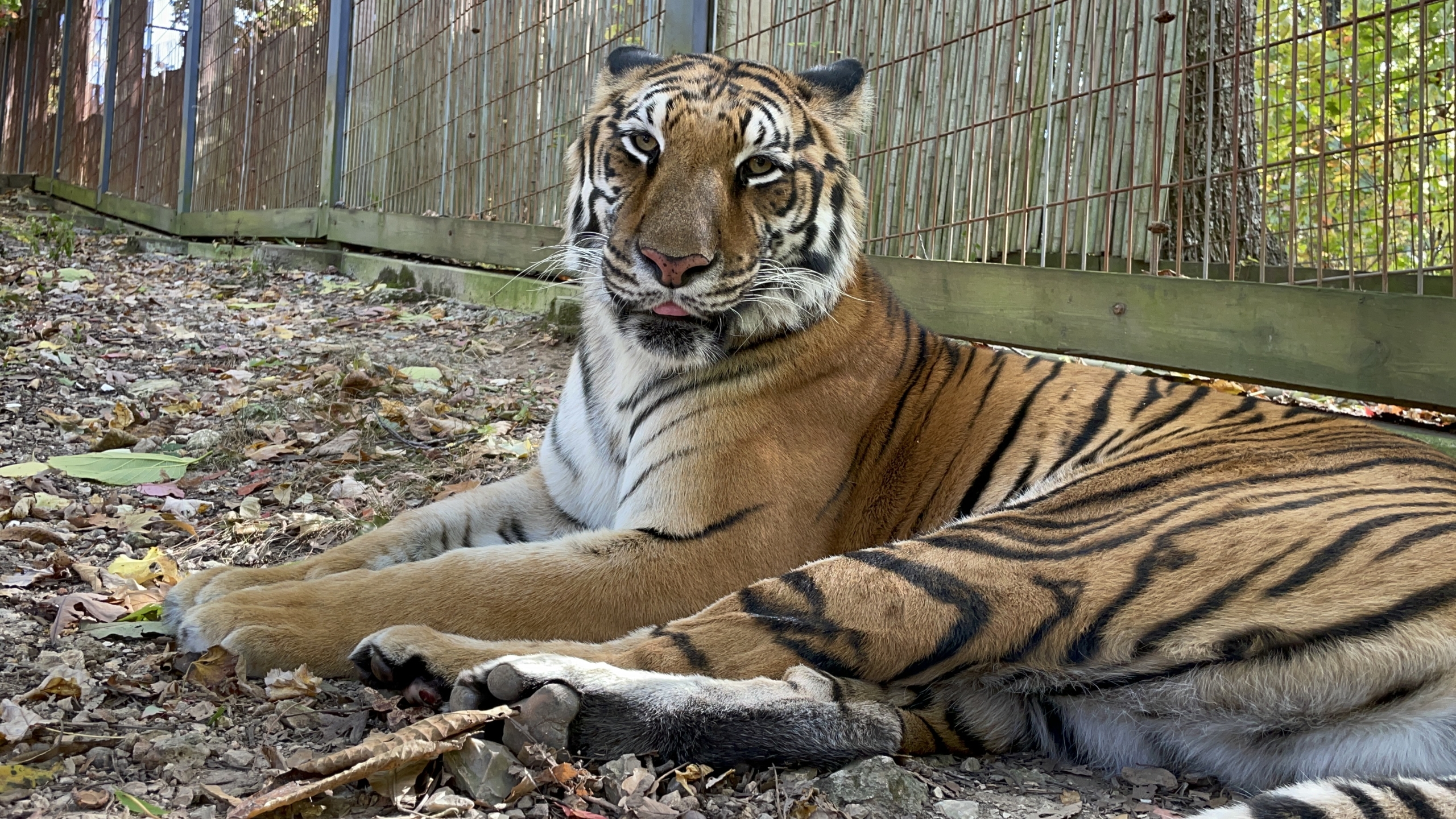 The first few weeks here Shakira was kept in our quarantine area, where she could settle in and get acquainted with her keepers before having to see visitors or the other tigers. She is a very timid girl, but she has slowly been getting used to things around the sanctuary. After her quarantine was over we gave her access to a full yard next to Izzy and she has been taking full advantage of it. So far she spends most of her time just lounging out in her yard enjoying the weather. Shakira is still a very timid girl, but with plenty of love and care she will fit right in here at her forever home thanks to supporters like YOU!
YOU CAN HELP SUPPORT SHAKIRA
If you would like to help support Shakira please consider joining our Adopt-A-Cat program. You will receive a photo, membership bookmark and so much more. You also will get monthly email updates on what Shakira has been doing so you don't miss a thing! Your subscription will go towards ensuring we can continue to provide Shakira with the very best care possible.