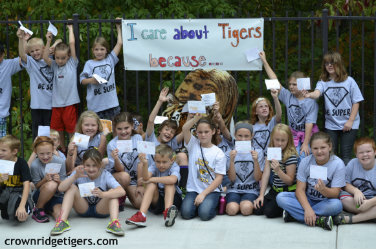 We have now added a new 3rd option, Virtual Tours! See below for more details!
Option #1 – Visit the Sanctuary
While at Crown Ridge Tiger Sanctuary your children will get to experience the sanctuary in a variety of ways, while learning at the same time! Included in the 2 hour tour is an educational presentation with video and tiger artifacts, the chance to make a piece of enrichment for our cats and a few educational games to play. Where else do your children get the chance to see a tiger up close, hear a lioness roar and make some enrichment for a big cat? Our goal is that your children come away with a new appreciation for tigers and lions and a better understanding of the threats they face in the United States and in the wild. Restrooms are available throughout the grounds and a covered pavilion is also available and time can be included for lunch.
Cost: $9 per child, $8 with significant donation from our wish list (see below for details)
Preferred Days: Monday, Wednesday
Reservations are required. Minimum of 20 people. Spaces fill up quickly so please contact us as soon as possible to reserve your date. Use the button at the bottom of the page to request more information. You can also call us at 573-883-9909 or email us at info@crown-ridge.com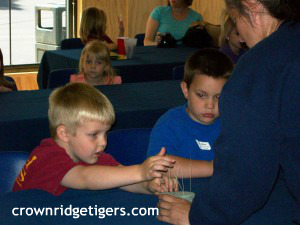 Option #2 – We Visit You
We know not everyone can come and experience the sanctuary, so let us bring the sanctuary experience to you! Included in a 1-2 hour visit is an educational presentation full of pictures, videos and of course educational information, tiger artifacts that allow your children to get an up close look at how big tigers claw are or what their whiskers feel like and big cat activities that are both fun and educational.
Cost: $3.00 per student, $25 travel fee if within 40 miles, $50 travel fee if further then 40 miles
Preferred Days: Monday, Wednesday
Must provide video presentation equipment.
Option #3 – Virtual Tour
We know during this crisis schools are closed and students are at home, and will be for the remainder of the year. We want to help by offering virtual tours for your classes/groups through Zoom. The tours will be 30-40 minutes (can be shortened depending on your needs) and will include a tour of the sanctuary where your students will learn about and meet our rescued big cats.
Cost: $50/tour (Can accommodate up to 100 participants)
Preferred Days: Monday, Tuesday, Wednesday (Can do other days based on our availability)
We will provide you with a Zoom meeting link for you to share with your students.
Reservations are required. Spaces fill up quickly so please contact us as soon as possible to reserve your date. Use the button at the bottom of the page to request more information. You can also call us at 573-883-9909 or email us at info@crown-ridge.com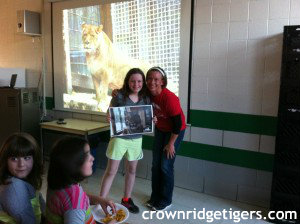 Educational Wish List
Simple Green
Brooms
Paper towels
Sidewalk Chalk
Non-toxic Paint
Poster board (white)
Pens/pencils
Nitrile Gloves (all sizes)
Rubbermaid Tubs
Permanent Markers
Butcher Paper
Meat Donations (call 573-883-9909 for details)