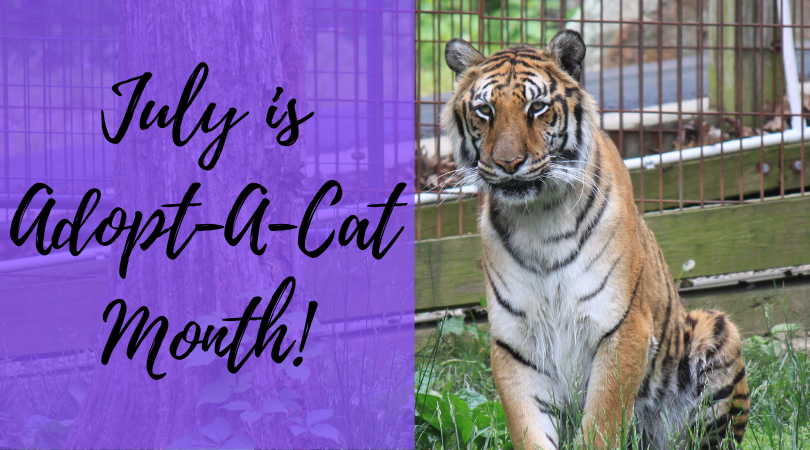 The entire month of July we are celebrating our Adopt-A-Cat Program! This program allows you to symbolically adopt one of our rescued tigers. Not only do the funds from this program go back to the care and well-being of our tigers, it also comes with a lot of perks for you! With every adoption you will receive an Adoption Packet containing your Certificate of Adoption, 4×6 photo of your adopted tiger, Adopt-A-Cat Parent bookmark, Proud Adopt-A-Cat Parent sticker, and a bunch more information about our sanctuary. In addition to all of these goodies, you will receive monthly email updates about your tiger, access to our private Facebook Page, and an invitation to our annual Adopt-A-Cat Day! What's unique about our Adoption Program is that there are different levels you are able to adopt at! They range from $25 up to $500, with each level including different add-ins like a magnet or even a nights stay at the sanctuary!
By the end of the month, which is also International Tiger Day, our goal is to receive 30 new Adopt-A-Cat Parents! Achieving this goal would push us to OVER 200 total parents in our program!!
Will you help us reach this goal??
As a thank you for your help, all of our current and new Adopt-A-Cat Parents will be entered in a drawing to win a special gift from each of our tigers. Each tiger will have a different prize, so make sure you're an Adoptive Parent of the tiger whose prize you'd like to be entered in to win by July 31st! Winners will be chosen on August 3rd.
Have questions? Feel free to contact us at ecofone@crown-ridge.com or at 573-883-9909.
Check out our amazing cats and their raffle prizes!