Crown Ridge Tiger Sanctuary Halloween Event
Saturday, Oct. 24th     1-2:30pm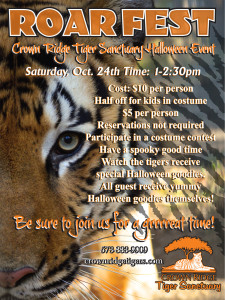 Cost $10 per person
Half off for kids in costume!
$5 per person
Reservations not required.
Participate in a costume contest!
Have a SPOOKY good time!
Watch the tigers receive special Halloween goodies.
All guests receive yummy Halloween goodies themselves.
Be sure to join us for a Grrrrreat Time!
Mission
Crown Ridge Tiger Sanctuary is a 501(c)3 non profit big cat rescue facility, licensed by USDA.
We provide permanent lifelong care for abused, neglected, and unwanted big cats. We help give animals a voice by advocating for conservation of the species in the wild and the wellbeing of captive big cats.
Through both on and off site presentations, tours, and educational programs, CRTS increases public awareness and inspires a change in the big cat crisis.

Summer Hours (April-November)
Thursday and Friday 11:00am to 3:00pm
Saturday and Sunday 11:00am to 4:00pm

Upcoming Events
Roar Fest 2015
Feeding Tour 10am.  $50 per person. Reservations required. Ages 13 and up only.