Spring Meat Donation Drive! Please Help!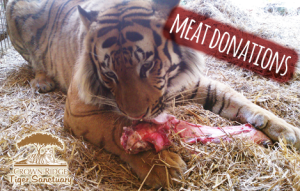 It's spring cleaning time! Cleaning out your freezers and don't know what to do with unwanted meat? Donate it to Crown Ridge Tiger Sanctuary! 100% of our meat is donated so every pound counts! Learn more ...
Thank you for your donations during Give STL Day!
You helped raise $955.00 for the big cats of Crown Ridge Tiger Sanctuary. With these donations the sanctuary will purchase new enrichment items, like boomer balls and barrels, and updating their habitats. Thank you for your support and giving animals a voice!
Mission
Crown Ridge Tiger Sanctuary is a 501(c)3 non profit big cat rescue facility, licensed by USDA.
We provide permanent lifelong care for abused, neglected, and unwanted big cats. We help give animals a voice by advocating for conservation of the species in the wild and the wellbeing of captive big cats.
Through both on and off site presentations, tours, and educational programs, CRTS increases public awareness and inspires a change in the big cat crisis.

Summer Hours (April-November)
Thursday and Friday 11:00am to 3:00pm
Saturday and Sunday 11:00am to 4:00pm
Tours every hour on the hour.

Announcements
First Feeding Tour of the year is Saturday April 25th at 10am. Ages 13 and up only. Please call for reservations.
Visit Crown Ridge at St. Louis Earth Day in Forest Park from 11am to 6pm on April 26th.