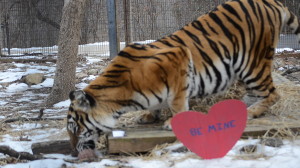 For two days, Crown Ridge offered a special Valentine's weekend tour. All of the cats received Valentine's enrichment  to explore and tear up.
Cat Fun!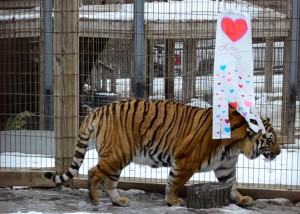 Thor devoured her burger Hershey kiss and then ate Gracie's too! Since one of Izzy's favorite spices is ginger and nutmeg, caretakers sprinkled these over card board hearts. Once he discovered his favorite scents he licked the hearts and rolled around to make sure he didn't miss a single drop. Izzy also enjoyed his decorated box with chicken inside. Even though Alexis wasn't a huge fan of the ice and snow, she was a good sport and came outside to greet everybody.
Daily Enrichment
Although this was a special Valentine's enrichment tour, caretakers provide all of the cats with daily enrichment. This could include giving a cat access to two yards, ice treats, hiding food, training, deer hides, or leaf piles.
You Can Help
If you are interested in helping create enrichment for the cats you can volunteer to be part of our enrichment team! Maybe you don't have the time to volunteer but we offer VIP tours and an Enrichment Day, where you can create some fun items to give to the cats.
Mark Your Calendar Now
Enrichment Day will take place August 9th at 11am, 1pm, and 3pm. Tour guests get the opportunity to get creative and construct items to toss to the cats and visit our observation deck for gr-r-reat photo opportunities. Keep up to date with all of the enrichment at Crown Ridge by following our Facebook page.