After travelling many miles from Georgia, Suvarna a 400 pound Bengal tiger has found his forever home. Previously Suvarna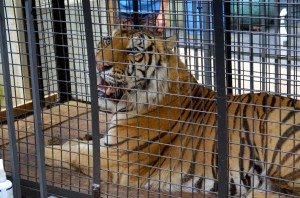 was a pet tiger whose owner decided that he no longer wanted to have to care for his two tigers, bear, cougar, and other wild animals. Since these wild animals are already in captivity and are accustom to humans, there is no chance of them surviving in the wild. IFAW (International Federation of Animal Welfare) stepped in to find all of these animals good homes.
Naturally Suvarna was quite nervous after being transported and arriving at Crown Ridge Tiger Sanctuary. With all new sights and smells he was feeling a little overwhelmed. Staff and volunteers secured his transport crate to his new quarantine yard in order to release him into his temporary enclosure. Suvarna took his time coming out of the crate, unsure of what might happen next. After some coaxing with chicken treats, his favorite food, eventually he ventured out of the crate and into his new home.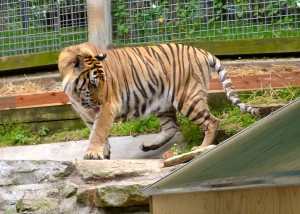 He quickly explored his new enclosure and ate several pounds of chicken. Izzy spotted him from afar and greeted his new friend with a chuff. Unfortunately Suvarna wasn't so quick to warm up and returned this greeting with a hiss.
By the end of the day Suvarna was relaxing on his rock platform but still keeping an eye on his new keepers. Eventually we did get a chuff from him and needless to say we were all very excited.
The quarantine process is a minimum of 30 days to help a new cat acclimate to his new surroundings but also to assess his health, checking to see if he has anything that could be passed onto the other Crown Ridge residents.
We all must be patient with Suvarna, as his whole world has been turned upside down. Keepers must learn his likes and dislikes while he becomes familiar with the routine at Crown Ridge. So far he is adjusting well and is not outwardly aggressive or fearful of keepers.