Crown Ridge is excited to announce our newest rescue, Suvarna!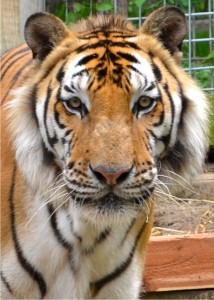 With assistance from IFAW and Tiger Creek Wildlife Refuge, Suvarna safely arrived at his forever home at Crown Ridge. Suvarna was rescued from a private owner in Georgia when the owner decided to relinquish ownership of his wild animals.
Currently Suvarna is in quarantine for 30 days to be certain he does not have any diseases or illnesses that could be passed to the other cats. After 30 days a vet will do blood work and once he has a clean bill of health, Suvarna will begin his transition to his new yard.
While Suvarna is adjusting to his new home, you can keep up to date with his progress on our blog, Facebook, and Youtube. Staff is hoping Suvarna will be on exhibit in the fall when he is more comfortable with all of the on-goings at the sanctuary.
If you are interested in donating to help fund Suvarna's rescue, such as vet bills, enrichment items, and food, please visit our donation page. Every donation makes a huge difference in giving animals a voice.