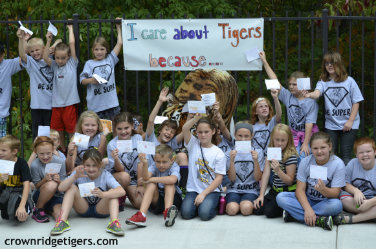 We offer a specialized education program for any age range and group size and is not limited to school groups. Our program focuses on teaching the importance of wildlife preservation, natural history of tigers and lions, and shows how one person can truly make a difference.
2 hour tour plus lunch afterwards (if group chooses to bring lunches to eat on grounds); Reservations required.
CALL FOR PRICING
Preferred days:  Monday, Tuesday, Wednesday
Our Educational Tours can accommodate any age range and group size. Tours are not limited to school groups. We welcome all service groups and/or organizations
Photo opportunities are available as well as access to our observation deck.
Education tours will view big cat replicas and artifacts in our Education Center such as claws, teeth, and whiskers.  Students will take away a better understanding of the tiger species, habitat and wildlife preservation, and how they can help protect the future of our animals.
A newly built pavilion now allows us to have extended space for groups including new restrooms and a covered eating area. Picnic tables provided.
Large group and/or Educational Tours must be set up in advance. Spaces fill up quickly so please contact 573-883-9909 for reservations.
Option #1 – Your Class Comes To Visit:
Generally includes a tour of the facility and cats, presentation in the Education Center, view tiger artifacts, a chance to make an enrichment item to be given to the cats that day, lunch (optional), and photo opportunities on our observation deck. Dependent on time we can include other fun tiger activities. Having lunch on our beautiful grounds is encouraged and picnic tables can be provided. 2 hour tour, call for pricing; 573-883-9909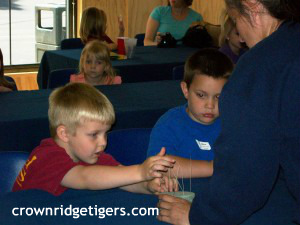 Option #2 – We Visit You:
We will bring a tiger claws, replica bones and skulls, PowerPoint presentation, and activity materials. Generally pricing is $25 per hour including travel time.
Please remember we are a non-profit organization and 100% of the money generated by tours goes back to the care of the tigers and to pay for their food, vet bills, enrichment and supplies.
Contact our program coordinator at 573-883-9909. Reservations must be made in advance. Call early as spaces fill up quickly.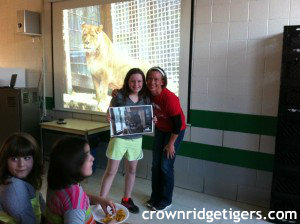 Educational Wish List
Dawn
Simple Green
Brooms
Paper towels
Non-toxic Paint
Poster board (white)
Pens/pencils
Thumbtacks
Latex Gloves (all sizes)
Permanent Markers
Duct Tape (various other tapes)