December-March:  Tours by reservation only. Please call 573-883-9909 to make a reservation!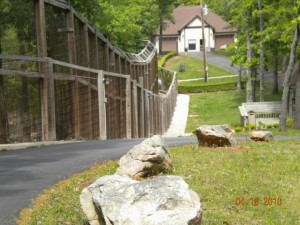 April-November:
General Tour Times-
Thurs. & Fri. 11 am – 3:00 pm
Sat. & Sun. 11 am – 4:00 pm
*Tours offered every hour on the hour.  No reservations needed.
General tours offered Thursday through Sunday.  VIP, Educational, and large group tours can be scheduled any day of the week.
All tours are handicap accessible, guided walking tours through the sanctuary grounds.  You will be able to see our wonderful animals from a paved walkway which allows the animals to get as close as 6 feet from you.  Our animal yards are enclosed on a hillside, which allows room for our animals to run, jump on platforms, and swim in their pools. The general public is not allowed on sanctuary grounds without being on a guided tour.
Learn more about:
General Tours
VIP Tours
Feeding Tours
Early Bird Tours