Now accepting applicants for FALL of 2017!
Crown Ridge Tiger Sanctuary is a USDA approved big cat rescue funded through a 501(c)3 Foundation. Our mission is to provide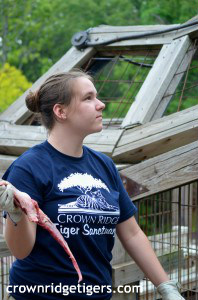 a permanent home for exotic cats that have endured neglect, abuse, or other undesirable homes. We strive to provide these cats with a healthy lifestyle by providing the best vet care, diets, and enrichment activities possible. We currently house a family of 4 tigers and 1 lion who range from young to old. Their outdoor enclosures are enclosed on a hillside which allows them plenty of room to run, swim in their pools, and rest on their various platforms. Interns are not only a huge help with the day-to-day tasks, but they bring their experience and fresh point of view to the sanctuary.
Program Overview
Crown Ridge is offering internships where students will gain valuable knowledge and working experience with tigers and lions which can be later used to further one's career in the animal field.We have 3 internships to offer this summer, 2 this spring and 2 this fall. Our internships are non-paid but students can receive credit in some cases and will receive valuable hands on experience.  Interns will participate in the daily care and management of tigers and lions (diet prep, exhibit maintenance, etc.), participate in public tours, and gain a better understanding of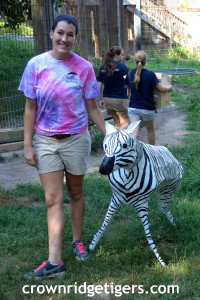 animal training, enrichment, and behavior. They will give tours to the general public and participate in group education. Students will also learn about the operation of a non-profit sanctuary, fundraising, and USDA regulations. Lodging is available near the sanctuary for interns free of charge.
Work hours are generally from 8am to 4:30pm, 5 days a week including weekends. Interns are required to write a summary of their experience, create a new enrichment item, as well as other projects. We are asking for a 10 week commitment as well. This is a great opportunity for students to get hands on animal care experience while learning about the importance of conservation work.
Applicants must be hardworking, focused, dedicated, and able to work independently or in a team environment. The work is physical and primarily performed outdoors in all types of weather.
To apply
Please send your resume, letter of intent, and 3 references to info@crown-ridge.com.  Even if you have missed the deadline, we urge you to still apply as there may still be availability due to cancellations.
Deadlines for applications: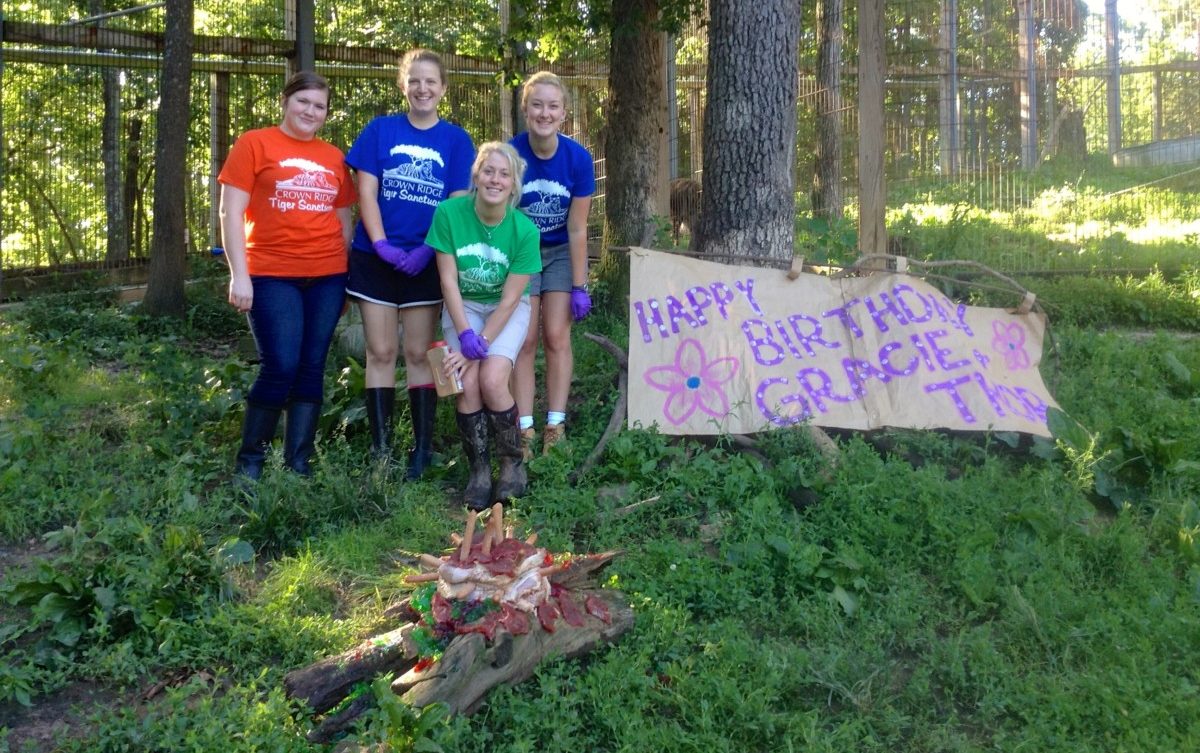 Spring Internship
Applications due by November 30th
Internship begin middle to end of February

Summer Internship
Applications due by March 1
Internships begin middle to end of May
Fall Internship
Applications due by June 15th
Internships begin middle to end of August
"My internship at the Crown Ridge Tiger Sanctuary taught me many things and was a once in a lifetime experience; one I will never forget."

"My favorite part about working at the sanctuary is how small and personal it is allowing me to get that hands on experience to get to know each of the cats and learn each of their personalities."

"When I first arrived here I never imagined that I'd be able to tell the cats apart. But now as I am on my last days I have learned each cat's unique personality and can even tell them apart just from their walk, and even know what each enjoys eating."