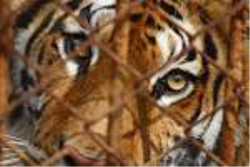 This act affects YOU in Missouri. Help us give animals a voice!
What is The Big Cats and Public Safety Protection Act?
The Big Cats and Public Safety Protection Act is an amendment to the Captive Wildlife Safety Act to phase out private possession of big cats in the United States, with the exception of wildlife sanctuaries, zoos accredited by AZA, certain traveling circuses, and state colleges and universities. This is a bipartisian bill that is supported by 75% of the country.
Lessen the Burden on Sanctuaries
Ultimately, this bill will lessen the burden on sanctuaries, with the goal of significantly decreasing the number of big cats needing to be rehomed in the future. An estimated 10,000 to 20,000 big cats are kept as pets and for profit in places like basements, backyards and roadside zoos throughout the U.S. today. In fact, the U.S. is thought to be home to more captive tigers than are found in the wild. Exact numbers are a mystery- nobody knows exactly how many dangerous big cats are being kept in private hands, under what conditions, and where. This overpopulation of big cats in captivity is known as The Big Cat Crisis.
Passing the Big Cats and Public Safety Protection Act would mean:
An amendment to the Captive Wildlife Act to generally end private possession and breeding of lions, tigers, leopards, snow leopards, clouded leopards, cheetahs, jaguars, and cougars, as well as any hybrid of these species.
A grandfather provision for current big cat owners that allows individuals to continue keeping their animals as long as they register them with U.S. Department of Agriculture (USDA) within a year after the bill becomes a law.
Exemptions for the following: Zoos accredited by the Association of Zoos and Aquariums (AZA) or certified related facilities that coordinate with an AZA Species Survival Plan for breeding of species listed as threatened or endangered; wildlife sanctuaries that do not breed or allow public handling of the animals; wildlife rehabilitators; state colleges and universities; and select traveling circuses in compliance with the Animal Welfare Act.
Penalties for violations: Violators of the law could have their animals confiscated, along with any equipment used in violation, and could face fines up to $20,000 and up to five years in jail.
Two Changes to the Current Captive Wildlife Safety Act
This bill will only change two items to the current Captive Wildlife Safety Act' definition of a "wildlife sanctuary":
It adds a requirement that the wildlife sanctuary does not allow transportation and display of big cats off-site (with the understanding that sanctuaries will be able to transport animals for rescue); and
It eliminates the requirement that a sanctuary be "accredited" in order to be exempt, because there is currently no requirement for sanctuaries to submit applications to specifically define this qualification.
Please take action! Click here
For more information please visit IFAW