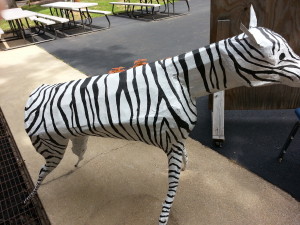 International Tiger Day is fast approaching and we are preparing for our fun filled day. While we have lots of activities for kids and families, we also provide our cats with fun items to celebrate, after all it is International Tiger Day. 
Our big cats receive many different types of enrichment to interact with in the yards all year round. But we have some very special enrichment planned for our biggest event. This year we are showcasing different animal's habitats from around the world to help celebrate this international holiday. We have chosen tundra, rain forest, dessert/savanna, and ocean as themes for each yard.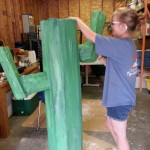 Since our cats cannot have items like rope, tape, glue, or any other unnatural material, it can be difficult to construct items for them to tear up. Interns, volunteers, and staff have been hard at work being creative with building safe enrichment. Paper mache, cardboard, and nontoxic paint are just a few items that have been used so far.
Although it takes a few weeks to create all of our awesome enrichment, it usually only takes the cats a few seconds to destroy all of the items. Be sure not to miss all of the action, so purchase your tickets for International Tiger Day now!